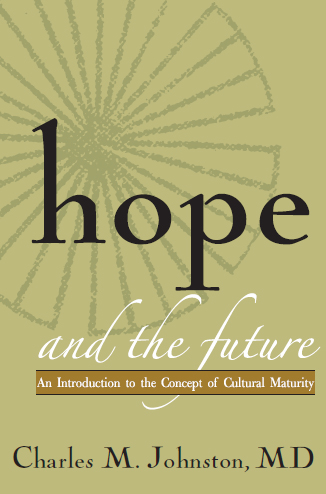 ISBN: 978-0-9747154-6-9
Price: $15.95
Pages: 180
Size: 6″ x 9″
Publication date: May, 2014
Ordering: Amazon.com
front cover | back cover
Should we be optimistic as we look to the future? Hope and the Future examines what legitimate hope for the future necessarily depends on. It describes how we face a growing number of human challenges that require that we think, act, and relate in new ways—often fundamentally new ways. And it looks at how addressing those challenges will require not just fresh ideas, but a critical "growing up" as a species—a new Cultural Maturity.
This short book is one of three related new works written by Charles Johnston for difference audiences with similar intent: to help people understand the times we live in and to make sense of what the future will require of us as a species. It is intended for a general audience wanting to better understand the tasks humanity now faces.
Hope and the Future introduces the concept of Cultural Maturity and examines how Cultural Maturity's changes are necessary to a future that is at all healthy–and perhaps even survivable. It also looks at ways in which Cultural Maturity's changes are already happening, and how, when we are ready for them, needed changes can see surprisingly straightforward: indeed, like common sense.  What is different is that this is a level of common sense that we have not before been capable of.
Here Charles Johnston explores the "new common sense" on which our future depends. He describes how culturally mature understanding will be needed not just to address the most critical questions before us, but simply to make sense of them. Some of the specific questions Hope and the Future touches on include: How, given the growing availability of weapons of mass destruction, do we best support a safe human future? How do we successfully address the very real possibility of environmental catastrophe? How will we make love work in the future, with gender roles and expectations today so in flux? How, in times ahead, will we deal with numerous new concerns that require global decision-making—such as terrorism and the need for stable and trustable global economic structures? How will we make the moral decisions demanded of us—given both their growing complexity and the weakening of cultural guideposts that we have relied on in times past? And most ultimately important, how do we best conceive of progress, if our actions are result in real human advancement?
The concept of Cultural Maturity provides a direct answer to this last most important of questions. In doing so, it provides a compelling guiding story for going forward. It also provides concrete guidance for taking on the tasks before us.
Because it is short and written for a general audience, of Dr Johnston's new books Hope and the Future is for most people the place to start for understanding his thinking. It is also the work that is most readily adapted for use in teaching situations.
_____
A few brief excerpts from initial reviews (see "praise" above for full reviews and sources):
"Must reading for understanding and contributing to our times."
"Challenging, thought provoking, and incredibly important. I wish there was a way to make this required reading for anyone seeking or holding a position of leadership…including teachers and parents. The worlds problems can seem desperately overwhelming, but taken bit by bit and piece by piece as presented in this book there IS hope, and it is vital we keep it alive and thriving."
"A monumental contribution. Dr. Johnston has done a masterful job of outlining, in plain language, the critical issues of our times and the skill and sensibilities required of us to successfully face the challenges ahead. I highly recommend this book to anyone who is seriously concerned about the future of humanity and the planet and is seeking realistic hope and guidance in these complex times."
"This may be one of the most important books of the 21st Century."
____
About the Author

Charles M. Johnston, MD, is a psychiatrist and futurist. He is best known as the originator of Creative Systems Theory, and for directing the Institute for Creative Development, a nonpartisan think tank and center for advanced leadership training. He is the author of numerous books and articles on the future and how we can best prepare to meet it. Websites related to his work can be found at www.CreativeSystems.org
Praise for Charles Johnston's Earlier Works
"This book impresses me very much."
– Ilya Prigogine, 
Nobel Chemist, 
Author of From Being to Becoming
Necessary Wisdom
"A rare gift. For those of us who sincerely struggle in our individual lives, our relationships, our profession, and our work to create a just world, this is essential reading."
– Alan Guskin
(former) President, Antioch University