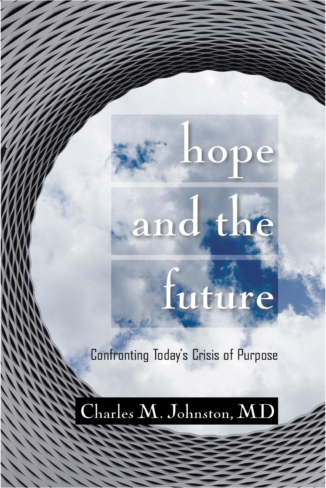 ISBN (print): 978-1-7322190-0-7
ISBN (e-book): 978-1-7322190-1-4
Price (print): $15.95
Price (e-book): $2.99
Pages: 180
Size: 6″ x 9″
Publication date: August, 2018
Ordering: Amazon.com, Ingram
front cover | back cover
Amazon author page
Hope and the Future is a critically important book by one of our times' most respected and original social thinkers. This second edition includes a new preface and additional examples that more specifically address unsettling events of the last four years.
_____
From the book's back cover:
"Hope and the Future addresses what legitimate hope for the future necessarily depends on. It describes how we face a growing number of challenges that require that we think, act, and relate in new ways—often fundamentally new ways. And it explores how effectively addressing those challenges will require not just fresh ideas, but a critical "growing up" as a species. This essential book also looks at ways needed changes are already happening, and how when we are ready for them, they can seem surprisingly straightforward, indeed, like common sense. Hope and the Future is an exploration of the "new common sense" on which our future depends."
The defining crisis of our time is a crisis of purpose. We lack a narrative, a human story, sufficiently compelling to take us forward. Hope and the Future introduces the Creative Systems concept of Cultural Maturity as a provocative candidate. The book addresses critical questions before as a species and what will be required of us to answer them effectively. And it looks at how the concept of Cultural Maturity provides overarching perspective for both understanding needed new capacities and what makes their realization possible.
Some of the critical questions the book addresses include: How, given the growing availability of weapons of mass destruction, do we best support a safe human future? How do we successfully address the very real possibility of environmental catastrophe? How will we make love work in the future, with gender roles and expectations today so in flux? How, in times ahead, will we deal with numerous new concerns that require global decision-making—such as terrorism and the need for stable and trustable global economic structures? How will we make the moral decisions demanded of us—given both their growing complexity and the weakening of cultural guideposts that we have relied on in times past? And most ultimately important, how do we best conceive of progress, if our actions are result in real human advancement?
The concept of Cultural Maturity offers a direct answer to this last most important of questions. In doing so, it provides a compelling guiding story for going forward. It also provides concrete guidance for taking on the tasks before us. Hope and the Future argues that if the concept of Cultural Maturity is not basically correct, it is hard to conceive of a vital human future.
Of all Dr Johnston's books, Hope and Future is written most specifically for a general audience. It is the place to start if you are not familiar with his work.
____
About the Author

Charles M. Johnston, MD, is a psychiatrist and futurist. He is best known as the originator of Creative Systems Theory, a comprehensive framework for understanding purpose and change in human systems, and for directing the Institute for Creative Development, a nonpartisan think tank and center for advanced leadership training. He is the author of numerous books and articles on the future and how we can best prepare to meet it. Creative Systems Theory-related websites can be found at www.CreativeSystems.org, the institute blog at www.CulturalMaturityblog.net and Dr Johnston's Looking To the Future podcast at www.Lookingtothefuture.net.
——–
Praise for Charles Johnston's Earlier Works:
"This book impresses me very much."
Ilya Prigogine— Nobel Chemist, author of From Being to Becoming
Necessary Wisdom
"A rare gift. For those of us who sincerely struggle in our individual lives, our relationships, our profession, and our work to create a just world, this is essential reading."
Alan Guskin—(former) President, Antioch University
——
Praise for Hope and the Future: Confronting Today's Crisis of Purpose
(Five star Amazon Reviews):
"A must read for anyone who wants to live a purposeful life with the future in mind."
Lyn Dillman — A Teacher of Teachers
"I highly recommend this book to anyone who is seriously concerned about the future of humanity and the planet and is seeking realistic hope and guidance in these complex and troubled times. A Monumental Contribution to our Human Understanding?
Larry Hobbs — Marine Biologist
How many psychiatrists do you know who focus not only on the psyche of their individual clients, but on the "psyche of culture"—wondering not just about how "I" might grow toward health and wholeness, but how all of humanity might do so by helping to create the culture we need 5, 50, 500 years from now? For me, reading Charles Johnston's books (The Creative Imperative, 1986; Necessary Wisdom, 1991; Cultural Maturity, 2015) has provided me with an "operating system" for asking better questions and inching toward the human wisdom required for a future succeeding generations deserve.
And now, Dr. Johnston gives us Hope and the Future—Confronting Today's Crisis of Purpose (2018). In this slim guidebook for the times we live in, he provides a digest of new developmental/evolutionary ways of thinking and more encompassing perspectives to help address humanity's deepest questions of meaning and purpose: how to move beyond the need to constantly create evil others (both inter-personally and politically); how to embrace the "power of limits" before warming our planet beyond human habitation; how to rethink relationships, love and leadership; how to understand what really matters for human well-being and advancement.
Dr. Johnston opens with a heart-rending conversation with a fifteen-year old who, two-days earlier, had tried to end his life and said, "I just don't see a life I'd want to live." I shudder to think how many sensitive young persons have similar thoughts about this crazy world we've made for them. Not just consuming the culture we've inherited but co-creating the culture we need is the responsibility of mature adults. Dr. Johnston maps the challenging and demanding territory so that each of us can do our part to heal the sickness that lies deep within the psyche of our times.
Rick Jackson — Co-Founder and Senior Fellow, Center for Courage & Renewal
"This is one of the most important books of the early 21st Century. Dr. Johnston does not believe that the way we think is "wrong." On the contrary, he is quite clear that the way we think in our current culture was timely for the emergence and development of the modern age. What he argues is that we are now in a transitional phase of culture similar to the one 400 years ago, where we are being asked to grow in a way that has not been necessary or even possible before now. I would recommend this book to anyone who feels "called" in some way, not just to make the world a better place, but to help grow the perspectives and ways of thinking that allow us to work together to co-create a world we can all live in."
David Walker Moore — Aerospace Engineer
"In Hope and the Future, Charles Johnston clearly articulates the unique challenges and possibilities of our times. He then invites us to put our hands on needed new, more powerful tools. The principles of Cultural Maturity are just plain common sense and help us distance ourselves from the tired approaches to social change that we have resigned ourselves to, even though they seem fruitless. The teachings included in Hope and the Future give us new life-giving alternative choices."
Bill Grace — Priest and Leadership Educator
"Psychiatrist Charles Johnston demonstrates how wise and mature leadership, grounded in new leadership capacities, will enable us to navigate the increasing complexity of the world. Hope and the Future is a blueprint for leadership at the evolutionary edge."
Nicholas Beecroft — Psychiatrist and Futurist
"Cultural Maturity is not for weaklings or whiners. It calls us to be more than we think we can be. But Dr. Johnston shows in this important book that it's necessary while he gives us the framework and pathway to get there."
Gloria M. Degaetano — Parent Educator
"Integrated," Integration, and "Integral"…If you have seen these words used in so many different ways that these words have become meaningless to you,…read this book.
If you think including several different points of view on the same panel/committee or layering different aspects of a given issue on top of each other is the same as providing an Integral Perspective in large arenas such as Governance, Education, or Health…Read This Book.
If you are not aware that simply comparing or contrasting one aspect of a field to another (such as democracy to socialism, "teacher-centered" to "student-centered," or "process oriented to "product-oriented ) is not really the same as "integrating" them… Read This Book.
"I have spent my life in the field of the Arts & Education–most recently teaching for many years at UC Berkeley, and now teaching as a guest artist worldwide. I feel that the single most important life-skill I have learned is the skill of "Moving beyond Polarity." I learned the importance of this skill and how to train for it from working with Dr. Charles M. Johnston!
Peggy Hackney — Movement Artist, Educator, Somatic Movement Therapist.
"Hope and the Future offers much to anyone that is concerned with the current state of immigration, climate change, terrorism, public discourse and much more. It provides a framework for both understanding how developmentally we arrived at this point in history, how our "modern age" approach falls short, and what is demanded of us if we are to effectively address these complex challenges. The book is accessible and engaging and full of knowledge that is applicable to big picture topics like those above as well as personal growth and development."
Bruce McDowell — CEO, McDowell Northwest
"Charles M. Johnston's Hope and the Future: Confronting Today's Crisis of Purpose speaks to an essential conversation that is urgent in the current cultural landscape and pertinent to the future. As the originator of Creative Systems Theory, his voice is right, timely, and vital. The future of human advancement requires that a new capacity be embraced to see things from a fresh perspective. As a futurist, Dr. Johnston explores all the pivotal aspects of how we must rethink and explore what he calls Cultural Maturity. This book and all of his work is exceptionally important, particularly with the present day challenges we face as a society."
Mike Seely — Organ Transplant Administrator 
"Our current ways of managing natural resources, governing, and even our templates for what a "good" relationship look like are not providing the useful frameworks and guidance for us that they may have in the past. How are these very different domains related to each other and how can we think differently about how to address the challenges we're facing? This is a short introduction to the idea that our models are often failing us because we're moving forward as a culture, we're maturing as a culture and what has worked for us at past point in time won't help us successfully move into the future. You can see it in the polarizing discussions we have about science vs belief, left vs right, female vs male. This is a call to prepare and allow ourselves to see and manage more of the complexity that exists beyond binary constructs. We might find we recognize a new common sense, find new affinities with people we may have previously considered "the other side", and in recognizing real limits, discover what's within our reach is not only grounded and sustainable, but also satisfying."
Jacquelyn Krones — Microsoft (Specializing in ethics and technology)
"This book points to a needed new sense of purpose- a story for our times. It gives guidance for what will likely work in the future and why. "Hope and the Future" points out why our current perspectives and processes often fail to work any longer. Our times face existential threats. This book describes a way forward that goes beyond anything else."
Dan A. Senour — Engineer
"Dr. Charles Johnston challenges us to use all our intelligences to "grow up," both individually and culturally. Drawing from his experiences as psychiatrist and artist, he shows how taking a bigger perspective can not only provide more hope but be more fun."
Stephen Silha — Journalist
"In 1984, I read the ground breaking book, The Creative Imperative, by Charles Johnston. In that book Johnson introduced a philosophical construct of life which embraced life as a creative process. I was inspired by Johnston's melding of personality styles, cultural evolution, and the creative process. Since then, his thinking has driven the work of the Institute for Creative Development. Thirty years later, I was grateful to find Johnson building on his work in a new series of books. In Hope and the Future, Johnson applies the power of his Creative Systems theory to our current society and the problems we face. Over the past 30 years, Johnson has applied his own creative process to his thinking and his ideas too have matured. In the book, using the tools of Creative Systems thinking, Johnston melds aspects of individual creative choice and societal evolutionary development into a vision of what could present the light at the end of the current tunnel in history in which we find ourselves. In reading the book, the reader is provided with a cultural construct from which to apply the creative process for effective growth in her/his own path in life. Johnston writes with a direct style that makes his ideas clear and easy to follow. Leaders in all fields of endeavor would do well to read this book. As my personal growth has lead me over the years to greater levels of professional responsibility I am so pleased to be able follow Johnston's thinking over the years and continue to apply it in my daily work."
Craig Schieber — Professor of Education
"Must read for anybody interested in understanding where we are, where we are going, and where we can go as a society."
Sabrina Sanchez, MD — Surgeon