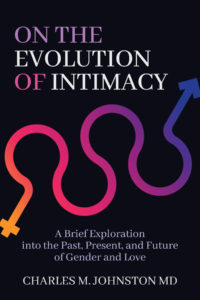 ISBN (print): 978-1-7322190-2-1
ISBN (e-book): 978-1-7322190-3-8
Price (print): $15.95
Price (e-book): $2.99
Pages: 160
Size: 6″ x 9″
Publication date: May, 2019
Ordering: Amazon.com, Ingram
front cover | back cover
Amazon author page
From the book's back cover:
"In no aspects of life today do we confront more rapid and easily confusing change than in the worlds of gender and intimacy. Men and women equally are left without clear guideposts for their choices. In this short book, one of our time's most innovative social scientists and futurists offers big-picture perspective for making sense of why we see what we do and what lies ahead. He describes an essential new chapter in identity and love, one that takes us beyond the battle of the sexes and brings new depth and maturity to both how we understand ourselves and our capacity for closeness with another."
In On the Evolution of Intimacy, psychiatrist and futurist Charles Johnston addresses how our times are making possible a critical "growing up" in how we think about intimacy and gender. With regard to intimacy, the changes he describes are as significant as those  which brought us Romeo and Juliet–style romantic love. With regard to gender, what he describes takes us beyond both the polarizing assumptions of traditional gender roles and the simplistic conclusions of a postmodern unisex ideal and offers that we might think with a whole new kind of sophistication. 
The book's last paragraph summarizes where On the Evolution of Intimacy takes us: "The rewards for even just making a start with this needed new chapter in how we understand are immense. We discover the possibility of deeper and more solid identities as men and as women. We also discover the paradoxical fact that engaging identity and love in needed new ways, while more demanding than what we have known, is also in important ways simpler. We can think of it as part of a needed "new common sense."
From the author: "This book had its origins in rich conversations sparked by the #MeToo movement and the like. In my role as a psychiatrist and futurist, I respond to potentially polarizing front-page-news issues by attempting to write about them from a more systemic vantage. When I tried to address current gender- and sexuality-related concerns in this way, I quickly realized that more than a short article would be necessary. These were questions that require big-picture, historical perspective. This book was the result.
In the book's last chapter, I observe that efforts like the current #MeToo movement could result in two quite opposite outcomes. We could see important new levels of communication and steps toward a reconciling history's battle of the sexes. And just as easily the result could be escalating polarization and acrimony not unlike we see today in the political arena. I wrote On The Evolution of Intimacy to support the kind of maturity of perspective needed for the former to be the case."
On the Evolution of Intimacy applies the notion of a needed, and newly possible, "growing up" as a species—what Dr. Johnston calls Cultural Maturity—to some of today's most important and fascinating concerns. The book expressly supports today's new gender-related conversations, but it also suggests that more is needed. It proposes that most of what we see today, with its focus on equal rights, equal opportunity, and equal safety for the sexes (particularly for women) is better thought of as a last contribution of the modern age project introduced with the Bill of Rights than an expression of Cultural Maturity's further changes. Dr. Johnston lays out important new lessons for men and also important lessons for women as we look to the future. He also suggests that a useful litmus test for success with culturally mature changes is men and women better understanding the unique challenges that each faces and also better appreciating the unique gifts that accompany meeting those challenges—in effect, a reconciliation of the historical battle of the sexes.
On the Evolution of Intimacy has it roots in the thinking of Creative Systems Theory, a comprehensive framework for addressing purpose, change, and interrelationship in human systems developed by Charles Johnston and colleagues at the Institute for Creative Development. Because the book draws so directly on the theory for understanding both history and the defining questions of our time, its insights provide important support for Creative Systems Theory as an overarching framework for understanding the richness and dynamism of the human endeavor.